PCB Trace Resistance Calculator
This calculator calculates the trace resistance of a PCB. The resistivity is calculated as 1.74 x 10-8 (Ω⋅m), the resistivity of copper at 20°Celsius.
Usually, a PCB is manufactured with a predetermined copper thickness, such as 0.5oz/ft*ft, 1oz/ft*ft, and 2oz/ft*ft. These values can be selected from the radio buttons for convenience. Some manufacturers calculate 0.5oz/ft*ft as 18um while others calculate it as 17.5um. Both values are available for selection.
Output values are rounded to the second decimal place.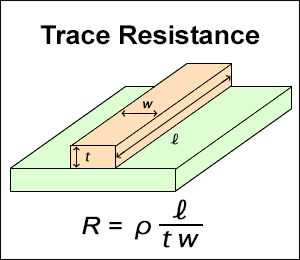 Input
Output